Carried down from generation to generation, if there's one thing that has survived the test of time in Brunei, it's definitely our food and our love for it. Live our culture in the best way possible, through your sense of taste.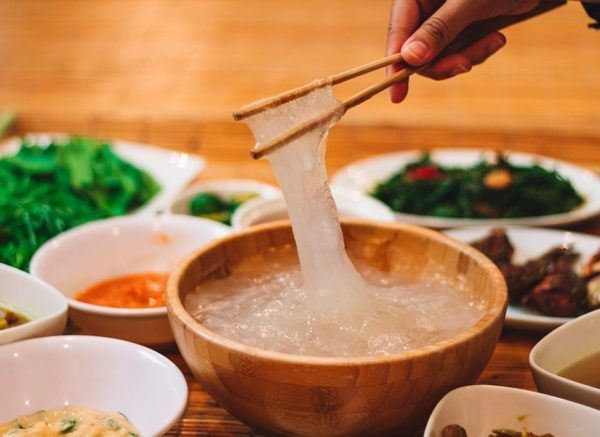 Ambuyat
Brunei's proud national dish. Derived from the interior trunk of the sago palm tree, ambuyat consists of a mix of starchy, solid whites (similar to tapioca starch) and water. Served sticky with a dip called cacah (usually sour and spicy), ambuyat is completely edible without chewing it. In fact, it's normal to just swallow it; it's the savoury taste that people yearn for.
Ambuyat is also one of the dishes that has a specific method of consuming it. Using a V-shaped bamboo stick called candas (think chopsticks, except one end is adjoined together), the way you eat it is to twirl some of the sticky texture onto your tips and then dip them in the cacah . It's a satisfyingly fresh way of eating that you just won't expect!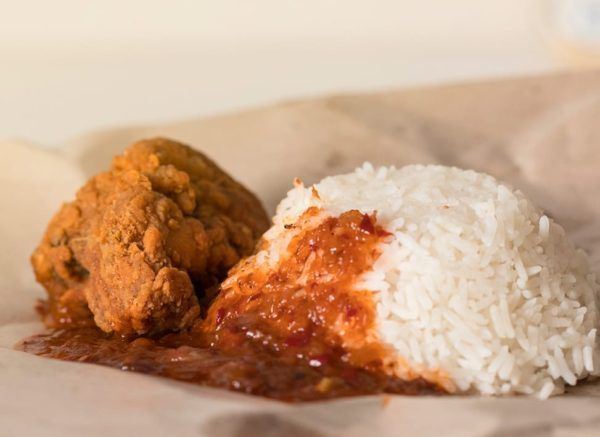 Nasi Katok
Nasi means rice and katok literally means knock. The story of how this name came about is that people used to have to knock on the nasi seller's doors to make an order. Gradually, the name stuck and now we have one of the most beloved dishes of the country.
Though there many variations of the dish spread throughout Brunei, the basic contents remain the same: one serving of rice, one piece of fried chicken and the best part, the sambal (dip). Ultimately, the most remarkable thing about nasi katok has always been that it's so affordable: at only BND1 per pack!
Kelupis
Essentially rice cakes made from glutinous rice, kelupis is one of Brunei's all-time favourite snacks wrapped in Nyirikleaf. Traditionally, in the Bisaya culture, they're served as light refreshments during a wedding or a special occasion. There are many varieties of the kelupis; some served with dried shrimp, some served with anchovies. But on its own, it's still a sweet delicacy, especially when eaten with peanut or curry dip.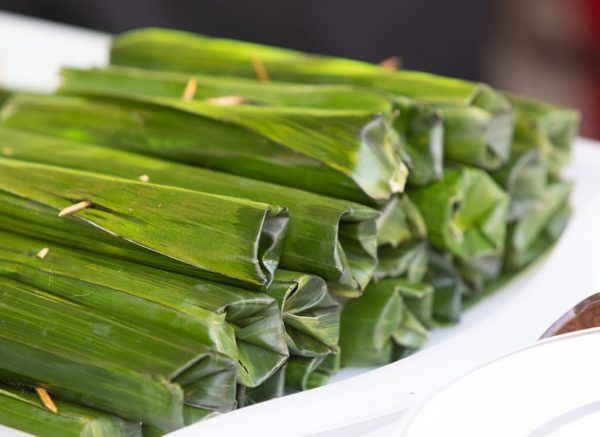 Pulut Panggang
Brunei is also well-known for their pulut panggang, a similar snack which is prepared by having its wrapped contents grilled instead of steamed, like it is done with kelupis. For some of the best tastes of pulut panggang, we recommend stopping by a long-standing Chinese restaurant called Mei Fang in Tutong. Be wary though as they're so delicious there, they can even run out as early as 8:30 am in the morning!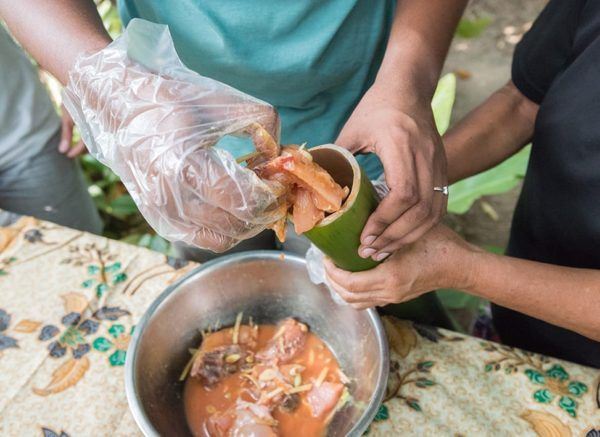 Bamboo Chicken
Unique to the culinary arts of Borneo, this rich and aromatic dish has long been a secret recipe to the Iban longhouse communities. Now that it's out in the open, everyone gets to sample a taste of its succulent flavour.
Prepared by stuffing marinated chicken into bamboo poles, onions and other spices are stuffed along with it and wedged shut with bamboo leaves. Next, it's nestled atop an open fire, and this is where the aroma begins to fill the air as the chicken is slowly cooked to perfection. Pair it with a platter of rice, and you've got a signature dish that will forever be a favourite here in Brunei.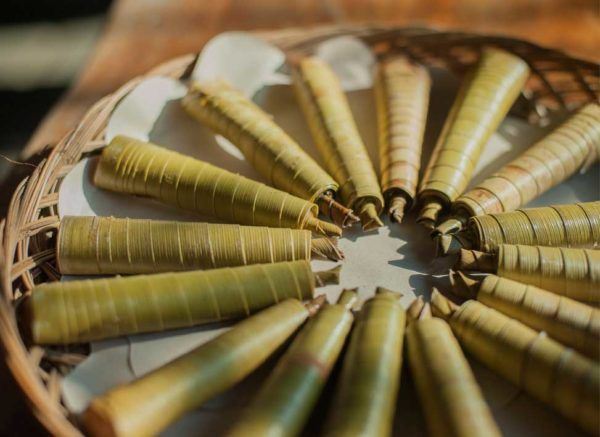 Selurut
The Selurut, a dessert of many names! So soft, your teeth practically slides through the steamed rice cake, with a sweet aftertaste left at the tip of your tongue. This traditional yet popular cone-shaped snack, is made with a floury brew of rice and sago, then drenched in salted water with a dash of coconut milk. The concoction is then poured inside a cone-rolled coconut leaf and left to steam.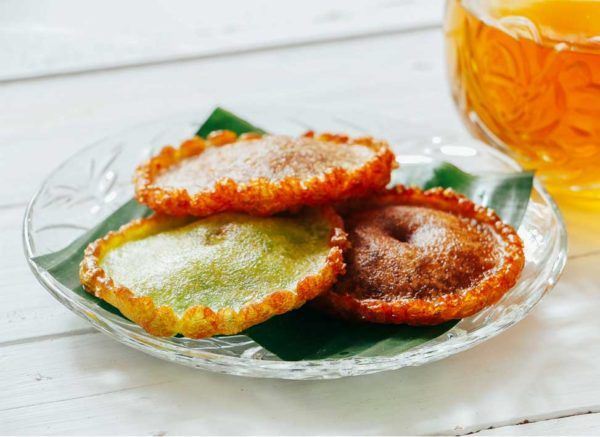 Penyaram
Have you ever seen a UFO up-close and personal? Well, have you eaten a UFO before? In Brunei, you'll get that chance. The Penyaram, or also known as Kuih UFO, a creation by the Bruneian Malay and the Bajaus. Take some rice flour, or corn flour, sprinkle in some coconut milk to mold the dough, before throwing it into a pan-full of hot cooking oil for a bite of Brunei's very own UFO!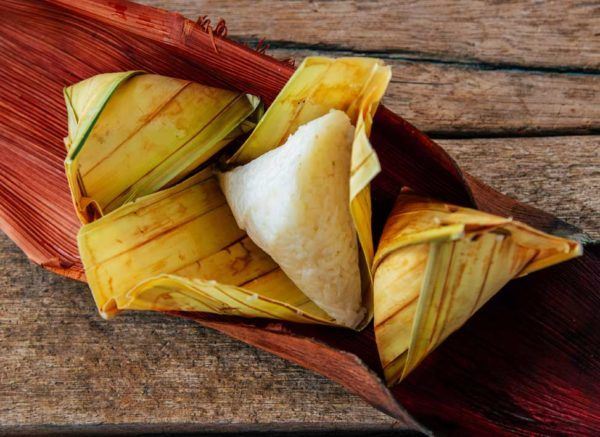 Tapai
Fancy a wrap of Bruneian Tapai? A very lengthy process follows in making this traditional Malay snack, but with great effort forms a mouth-watering sweet-sour rice snack. It is made with rolling a mix of Siam rice with "laru" and sugar. Laru (or ragi) is the yeast starter which helps kickstart the fermentation process. The mixture is then wrapped with nipah leaves, kept in a cool place for fermentation, then Voila! You've got your hands on a much-loved Bruneian snack.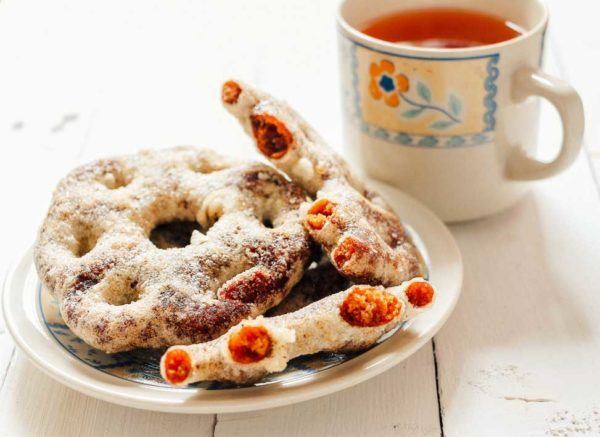 Kuih Cincin
Fun fact! The word 'Cincin' translates to 'ring', and why would you ever want to eat a ring? Well in Brunei you will 'want' to eat a ring! Made with both red-palm sugar and brown-sugar, and coated with rice flour ready for a deep fry finish. If you haven't already noticed, in Brunei, everyone loves rice flour!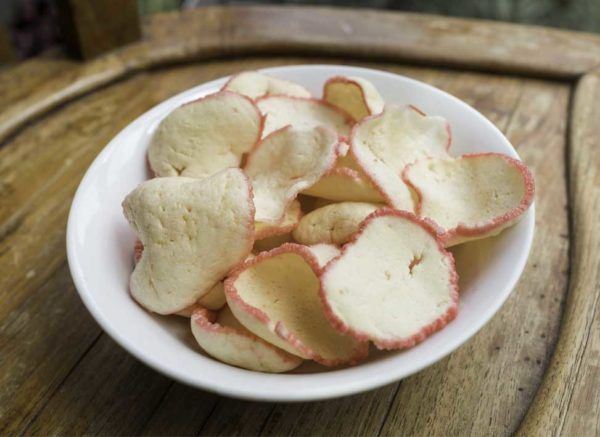 Keropok Udang
A staple snack for both local dwellers, and foreign holidaymakers, the Keropok Udang is a traditional snack that is shared all across Borneo, including our Kalimantan neighbours. The shape of each Prawn Cracker vary from artisan-to-artisan, but by default, it has a yellowish-white hue. A blend of minced-prawn and starch; garnished with garlic, salt & pepper, and baked under the sun before frying in hot oil to crispy perfection!
DISCOVER
The Best of Brunei
Strategically positioned in the heart of Borneo where over 70% of our land is covered in pristine jungle, there are many different hiking trails in Brunei to reset and disconn…
Located in the heart of Southeast Asia and close to the equatorial line, Brunei gets a generous amount of sunshine and rainfall throughout the year, especially during the mons…
Looking for a cheap and comfortable place to stay without having to fork out more and save the extra dollars for shopping and exploring? Brunei has an abundance of hotels, hom…