On 15th July, 2021, His Majesty the Sultan and Yang Di-Pertuan of Brunei Darussalam presided over a grand parade held at the Taman Haji Sir Muda Omar 'Ali Saifuddien in the capital to mark his 75th birthday. The occasion was watched by well-wishers of all ages, hoping to catch a glimpse of their beloved monarch or get close enough to greet him and snap a selfie together, something His Majesty is always so generous to oblige. Onlookers, gathered by the roadside waving mini Brunei flags, smiling and cheering. Streets were teeming. People were milling. Shops were bustling. It looked just like the celebrations of previous years, except 2020.
2020 was a year that no one will forget. The COVID-19 disease spread to every part of the globe and devastated lives and economies. When the first cases appeared in Brunei in March 2020, swift and decisive actions were taken by a government health task force to deal with an escalating disease that no one had full knowledge of yet. Borders were immediately closed to all modes of travel – fearing more imported cases – turning the country into a protective bubble from a powerful invader.
Between March and June, the tightest restrictions to deal with COVID were introduced. People were discourage from leaving their homes except for essential trips for food and necessities. Work and school shifted to online mode at home, and mass gatherings were prohibited. Mask-wearing, hand-sanitising, keeping one-metre distance from one another and contact tracing through the BruHealth App were enforced among other rules. These new routines introduced by the Ministry of Health were to become people's lifeline to survival.
By July, domestic COVID cases were flatlining, many days would pass without a new infection. In light of this small victory, the Brunei government cautiously loosened the restrictions in phases. Airport arrivals were permitted with proper applications, documentation and strict isolation requirements. Foreign professionals vital for the medical and oil and gas industry were permitted to enter Brunei with a mandatory swab test and 14-day quarantine. Hotels had to diligently follow hygiene and safety protocols as they were required to maintain constant communication with the Ministry of Health and submit daily reports. Front office staff regularly make random calls to isolating guests to ensure they did not flout quarantine rules.
Life for the locals gradually returned, little by little. E-commerce flourished and home-grown businesses that marketed their wares on social media bloomed, a boost for local businesses, especially the food sector. Automobile and electronic companies also saw unprecedented sales. The impact of travel restrictions abroad has lead to an increase in domestic sales. According to the Department of Economic Planning and Statistics, the Brunei Retail Sales Index (RSI) showed an increase of 21.3% year-on-year in the fourth quarter of 2020. The F&B services index increased by 11.5% year-on-year compared to the 4th quarter in 2019.  All retail activities have shown an increase in sales, even in hardware and products from specialised home stores.
Brunei's borders have remained largely closed to foreign visitors except for essential business travellers and returning residents. Businesses had to rely on the local workforce, creating a more vibrant job market and increasing local employment. Bruneians are keen travellers but the worldwide pandemic shifted holiday interests towards Destination Brunei, bolstering domestic tourism. With no overseas travel but no local lockdown either, hotels rolled out staycations and dining promotions to attract those itching for a travel experience, even if it is just down the road from their house.
Domestic tourism became the fresh thing on the menu and tour companies sold packages to explore the beauty in each Brunei district with the help of government-driven campaigns like Selera Bruneiku. Social media users posted more photos of waterfalls, river cruises, camping trips, farm visits, cultural sites and sweaty faces in leafy surroundings. New walking trails are explored and traditional hobbies revisited. Green, natural and local are the new taglines and Brunei has much to offer in those areas.
When His Majesty the Sultan and Yang Di-Pertuan of Brunei Darussalam received His first dose of COVID-19 vaccine on April 1st, 2021, the nation watched as His Majesty gave a thumbs up, displaying a sign of confidence in vaccination. Soon after, the vaccines were rolled out to the public on April 3rd, starting with the front liners and senior citizens. In Brunei, every resident has a right to protection from COVID and vaccines are available free of charge to all including non-citizens, and bookings for vaccinations can be made through the BruHealth App. Vaccinated numbers have grown gradually. By August, over a third of the population have received at least one dose of vaccine and 300,000 vaccines are expected to arrive in the 4th quarter of the year. The target is to achieve a 70% vaccination goal by the end of 2021.
After more than a year without a local COVID transmission case, on August 8th, 2021, the statistics were about to change. New cases of local infections were detected, prompting a slew of restrictions to be reinstated, and compliance was absolute. Wearing a mask is mandatory, whether indoors or outdoors, any violators will find themselves immediately slapped with a B$100 fine. Movements were restricted, gatherings banned, offices and schools went digital, and all places of worship and leisure were closed. Individuals who violate a quarantine order or self-isolation can be fined up to B$10,000 or imprisonment for up to 6 months or both.
Bruneians found themselves facing a new scenario: the Delta variant that has been plaguing the rest of the world is now pushing up daily local infection cases. A second wave has swept over the country and mass testing was necessary in all districts. More testing centres were immediately established and new facilities were prepared to house quarantine individuals. A 24-hour mobile virology lab with a capacity to process swab samples up to 5,000 a day was set up overnight to help provide up-to-date figures for better management of the outbreak.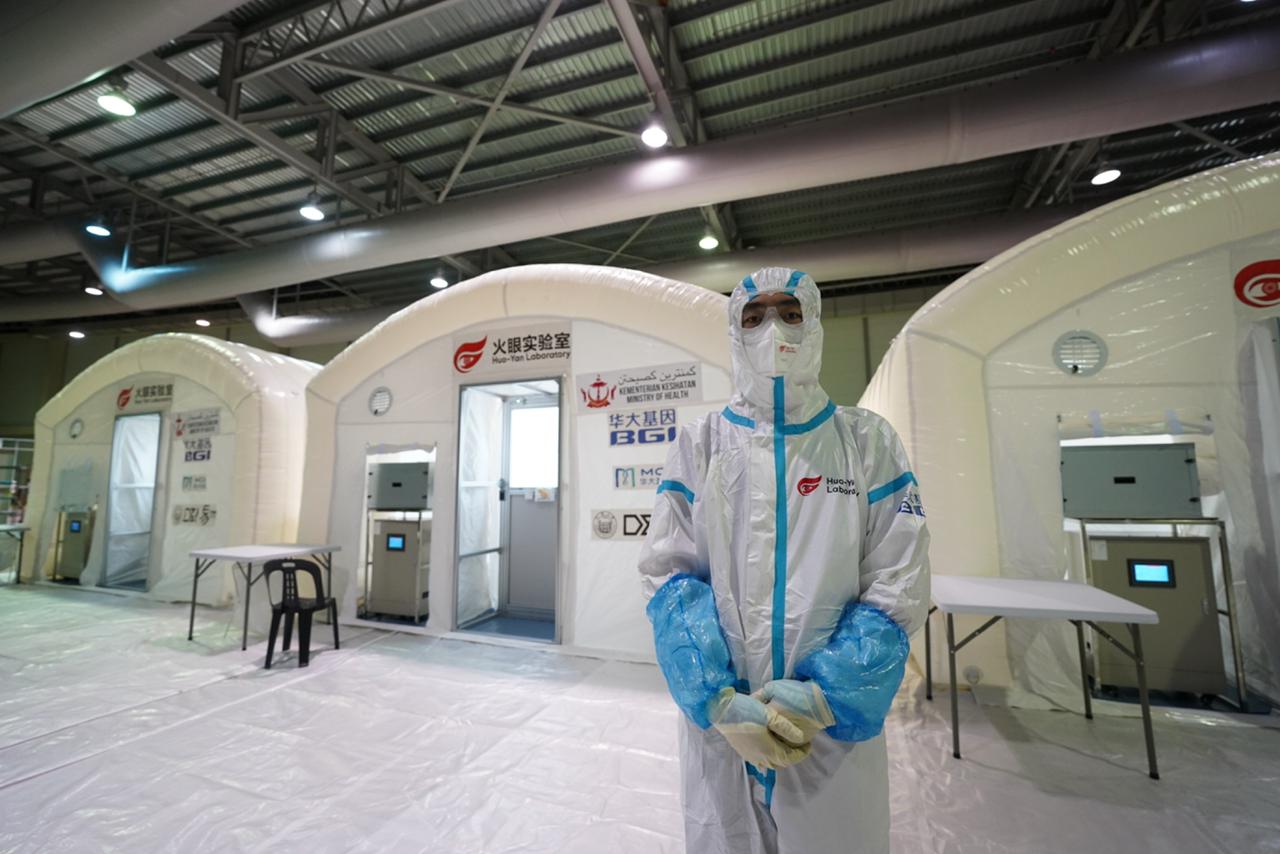 Photo courtesy of Ministry of Health
Bruneians are put to the test again. It was a blessing that the country made it through 15 months without local infections and the residents enjoyed a pre-2020 lifestyle with limited restrictions. It was a freedom that was achieved collectively with decisive leadership from His Majesty's government. Vaccination is still the government's roadmap to reach herd immunity and protect the population. Although the situation has changed in recent weeks, Brunei has shown its ability to tackle a crisis as a nation and its past experience will carry it forward, adapt to the changing environment and overcome this epidemic. In these complex and uncertain times, the fight continues. When everyone does their part, they can succeed, together.