Known for their picturesque sunsets and scenic shorelines, the sun-kissed beaches of Brunei are definitely a leisurely destination not to be missed in your stay here.
Sporting both smooth sand and clear waters, take a quiet stroll along these beaches or engage in exhilarating watersports; you're bound to find all sorts of delightful memories here. Off the coasts of Brunei is also a diver's paradise undiscovered to most, with vast coral reefs domineering the ocean beauty with gorgeous marine life. Whether it's exploring rich, diverse reefscapes or uncovering treasures from a shipwreck – if you're an adventurous diver looking to cover some new grounds, chances are you'll probably find them here.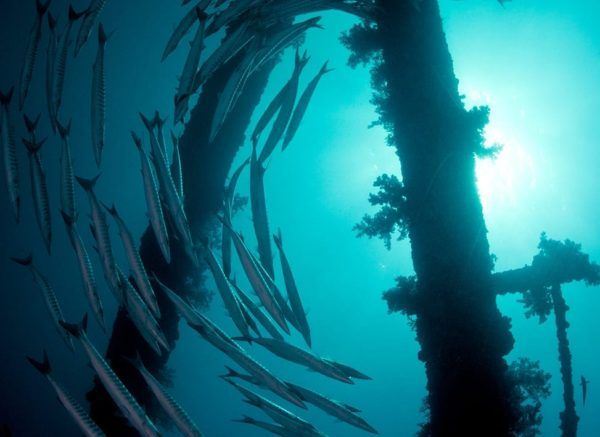 Diving in Brunei
Brunei is famous for some of the best macro diving and wreck diving experiences. The coral reefs are mostly pure and untouched, and you'll find no shortage of magnificent sea life in your travels here – from leopard shrimps, barracudas and octopuses to lionfishes, moray eels and seahorses; if you're lucky enough, you might even get to spot a whale shark or a dolphin idly passing by. Scattered between Brunei and the Malaysian island of Labuan, you'll also find a glorious collection of wrecks, each laced with its own tale and history to tell – including several World War II (WWII) wrecks such as the infamous Aussie wreck. We recommend diving between March and October and if possible, between May and mid-July to make the most out of all these incredible sites.
Local Dive Operators & Club
Top Reefs / Wrecks Around Brunei
Abana Reef – colourful reef with warm waters and a visibility of up to 20 metres; perfect for beginners or advanced divers
Pelong Rocks – massive reef surrounding island with shallow waters, ranging from 1 metre to a maximum of 18 metres
Australian Wreck – century-old passenger and cargo ship sunk during WWII with a maximum depth of 34 metres; best suited for advanced divers
American Wreck – U.S. WWII minesweeper sunk during a pre-invasion sweep of Brunei Bay in 1945, with a depth of 32 metres; recommended for advanced divers
Oil Rig Reef – oil rig jackets designed as an artificial reef, holding numerous types of hard and soft coral with a shallow depth of 19 metres; another ideal spot for beginners
Beaches in Brunei
Brunei's coastline stretches about 161 kilometres long and with it constantly being swept by a series of rivers and canals, you can never go far without a body of water to chill out by. Most popular beaches are located in the Brunei-Muara district, each offering its own unique set of perks and facilities. The Muara Beach, for instance, is a classic weekend spot filled with picnic amenities, changing rooms and even a children's playground. For a more personal touch with unspoilt beaches and rolling waves, visitors may enjoy Tungku Beach, along with its magnificent sunset views. Hit these beaches on a weekday and chances are you'll probably have the sand and water all to yourself.
Top Beaches in Brunei
Muara Beach – a family favourite and a picnic retreat with food stalls that open over the weekends
Meragang Beach – a quiet, secluded spot perfect for morning jogs or long sunset strolls
Tungku Beach – a hot spot for surfers, surrounded by trees along with miles of wave breakers
Jerudong Beach – a popular site for watersports and diving enthusiasts with fresh-off-the-boat seafood available nearby
Seri Kenangan Beach – a unique beach situated between Tutong River and South China Sea; excellent for sunsets and barbecues
Serasa Beach – a narrow stretch of beach where the Serasa Watersports Complex can be found; prime activities include jet-skiing, windsurfing and kayaking
Brunei is home to some of the most well-kept and unspoilt natural ecosystems, especially here in our underwater backyard. As we exchange cultures and share with you nature's most pristine treasures, we only ask that you abide to these codes of conduct and courtesy as a fellow diver:
Refrain from touching the corals, if at all possible. (this includes anchoring and stepping on them, as you may introduce bacteria that could destroy the fragile organism)
Do not collect or bring back pieces of the corals, as well as any live or dead marine life.
Do not take anything from the seabed, not even a seashell as a creature could have crawled or be living inside.
Do not litter the sea or leave anything behind as rubbish.
Ensure all your gauges and equipment are properly secured and not dragging behind you.
Do not feed the fishes or any other marine creatures. (this may inadvertently cause them to be dependent on humans)
DISCOVER
The Best of Brunei
Brunei is the perfect place to disconnect from the fast paced world we live in and to spend quality time with our loved ones. Talking about its distinctive…
Being fairly small in size, everything in Brunei can be easily accessed. Navigate like a local with the different ways of travel in the country. Public Bus Brunei's…
Brunei's coastline of some 160km along the South China Sea boasts excellent picturesque sceneries, sunsets and its huge collection of marine life. Located on Borneo Island, Brunei has…